1. WHAT IS SEO AND WHY IS IT IMPORTANT?
Search engine optimization is the process of optimizing web pages. It is the process of optimizing web pages and their content so that they are easily found by users looking for terms relevant to your website. The term SEO also describes the process of simplifying web pages. Search engines use indexing software, called "crawlers", to find, analyze and index your site. Although the concept of SEO is relatively simple. Indeed, many newcomers to SEO still have questions about the details, such as:
How do you "optimize" your site or your company's site for search engines?
Do you have how much time to devote to SEO?
How can you tell the difference between "good" SEO tips and "bad" SEO tips?
Perhaps the most important aspect of search engine optimization is how you can actually benefit from SEO. To help you generate more relevant traffic, leads and sales for your business.
2. WHY SHOULD YOU CARE ABOUT SEARCH ENGINE OPTIMIZATION?
Billions of searches are conducted online every day. That means a huge amount of specific, highly intentional traffic.
Many people search for specific products and services with the intention of paying for those things. These searches are known to have commercial intent. This means that they make it clear with their search that they want to buy something you offer.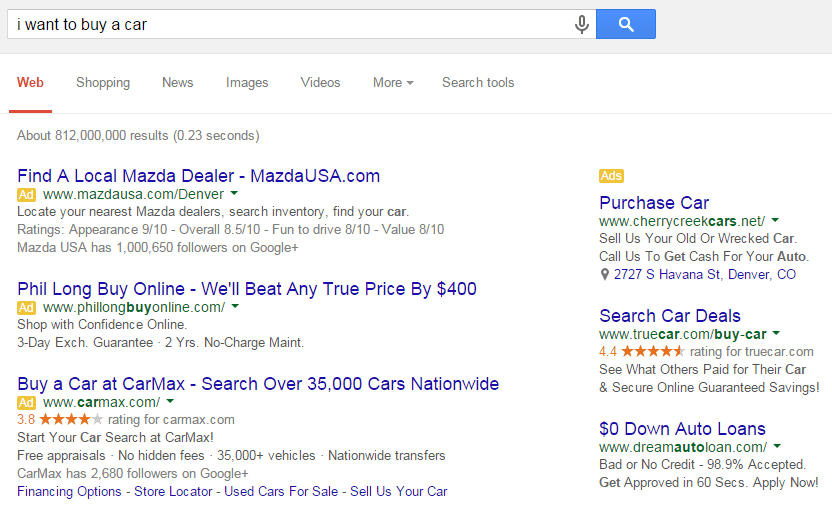 People are searching for all sorts of things directly related to your business. Beyond that, your prospects are also looking for all sorts of things that are only loosely related to your business. These represent even more opportunities to connect with them. And to help answer their questions, solve their problems and become a trusted resource for them.
Are you more likely to get your widgets from a trusted resource. Who provided interesting information each of the last four times you asked Google for help solving a problem, or from someone you've never heard of?
3. WHAT REALLY WORKS TO GENERATE SEO TRAFFIC FROM SEARCH ENGINES?
It is important to note that Google is responsible for the majority of the world's search engine traffic. This may vary from industry to industry, but it is likely that Google is the dominant player in the search results in which your business or website would like to appear, but the best practices outlined in this guide will help you position your site and its content to rank in other search engines, as well.

So how does Google determine which pages to return based on what people are searching for? How do you get all that valuable traffic to your site?
GOOGLE'S ALGORITHM IS EXTREMELY COMPLEX, BUT AT A HIGH LEVEL:
Google looks for pages with relevant, high-quality information that is relevant to the user's query.
Google's algorithm determines relevance by "crawling" (or reading) the content of your website and evaluating (algorithmically) whether that content is relevant to what the searcher is looking for, based on the keywords it contains and other factors (called "ranking signals").
Google determines "quality" through a number of means, but a site's link profile – the number and quality of other websites that link to a page and to a site as a whole – is among the most important.
Increasingly, additional ranking signals are evaluated by Google's algorithm to determine a site's ranking, such as:
How users interact with a site.  (Do they find the information they need and stay on the site, or do they "return" to the search page and click on another link? Or do they simply ignore your listing in the search results and never click?)
Site loading speed and "mobile friendliness
The amount of unique content on a site (versus "light" or duplicate, low-value content)
Google's algorithm takes into account hundreds of ranking factors in response to searches, and Google is constantly updating and refining its process to ensure it provides the best possible user experience.
4. SEO SEARCH AND KEYWORD TARGETING BEST PRACTICES
The first step in search engine optimization is to determine what you are actually optimizing for. This means identifying the terms that people are searching for, also known as "keywords". For which you want your website to rank in search engines like Google.
For example, you may want your widget company to appear when users search for "widgets". And maybe when they type in things like "buy widgets". The figure below shows the search volume, or estimated number of searches for a specific term, over a given time period:

There are several key factors to consider when determining which keywords you want to target on your site:
Search volume – The first factor to consider is the number of people who actually search for a given keyword. The more people who search for a keyword, the larger the potential audience you can reach. Conversely, if no one is searching for a keyword, there is no audience available to find your content via search.
Relevance – A term may be frequently searched, but that doesn't necessarily mean it's relevant to your prospects. Keyword relevance, or the connection between a site's content and a user's search query, is a crucial ranking signal.
Competition – Keywords with a higher search volume can generate significant traffic, but competition for premium positioning in search engine results pages can be intense.
YOU MUST FIRST UNDERSTAND WHO YOUR POTENTIAL CUSTOMERS ARE AND WHAT THEY ARE LIKELY TO BE LOOKING FOR. FROM THERE, YOU NEED TO UNDERSTAND :
What types of things are they interested in?
What problems do they have?
What kind of language do they use to describe what they do, the tools they use, etc.?
Who else do they buy things from?
Once you've answered these questions, you'll have an initial "starting list" of possible keywords and domains to help you come up with additional keyword ideas and define search volume and competition statistics.
Take the list of the main ways your prospects and customers describe what you do and start entering them into keyword tools such as Google's Keyword Tool or tools such as WordStream's Keyword Tool: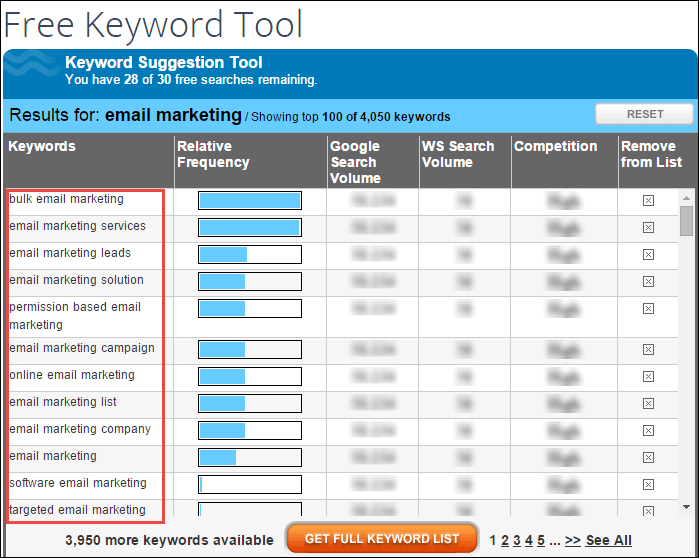 PLUS, IF YOU HAVE AN EXISTING SITE, YOU ARE PROBABLY ALREADY GETTING TRAFFIC FROM SEARCH ENGINES.
If so, you can use some of your own keyword data to help you understand which terms are generating traffic (and which you may be able to rank better for).
Unfortunately, Google has stopped providing much of the information about what people are searching for to analytics providers. Google makes some of this data available in its free Webmaster Tools interface (if you haven't set up an account, this is a very valuable SEO tool for both digging up search query data and diagnosing various technical SEO issues).
Once you've taken the time to understand your prospects, looked at the keywords that are driving traffic to your competitors and related sites, and looked at the terms driving traffic to your own site, you need to work to understand what terms you can imagine. ranking for and where the best opportunities lie.